The almonds
Origin of almonds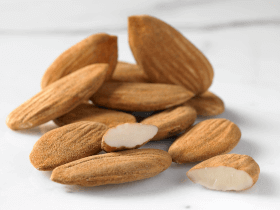 The almonds come from two differents places : Avola and Alicante.
Avola almonds
They are considered, rightly, as the best almonds in the world. Their flat shape is ideal for the manufacture of dragees.
Alicante almonds
This is the Longuette variety. Their shape is less flat
Sorting and sizing almonds
Almonds whose origin determines the quality are first calibrated, sorted.
Indeed, the best dragees and the most beautiful of appearance have a flat, regular shape, tapered towards one end.
The sugar layer can only be uniformly distributed if the shape of the almonds is regular.
It is the uniformity of the dimensions that allows a very regular presentation. The very beautiful dragees can only be made with one quality of almonds. When the manufacturer receives them, he must have them sorted one by one so that this regularity is well respected in all three dimensions, length, width, thickness.
The dragees produced are then meticulously selected according to their size and finish before being packaged.